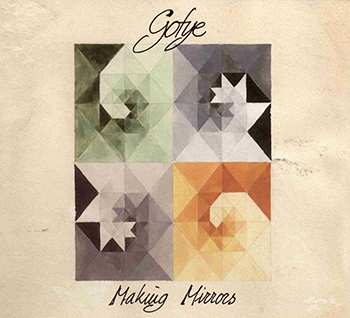 Making Mirrors – Gotye – Universal Music Rs. 395/-
By now you must have already heard of the massive single 'Somebody that I used to know' by Belgium-born, Melbourne-bred Gotye (pronounced in French as Gautier) who moved to Australia to launch his music career. Though Gotye has been around for sometime, having released two albums so far, he is back with his third offering after a gap of five years ("Boardface" - 2003 and "Like Drawing Blood" – 2006, remixed the next year as "Mixed Blood"). While his earlier work failed to lift him to super stardom, this time he has found worldwide attention, more because of his internet famous superbly produced hit single that has today become a worldwide rage.
Somebody that I used to know featuring New Zealand singer Kimbra, is a mesmerizing heartbreak song that hasa had heavy rotation on YouTube garnering over 65 million hits. The fancy use of xylophone, wineglass, mandolin, bells and other such instruments is Gotye's special interest. Gotye has also used the Turkish drums, West African thumb pianos, and many such novel instruments to create the music he wants. In all his songs you will find that he has used samples of other artist's songs to weave into his compositions. So you have songs like the slightly 80s electro touched cello infused Eyes wide open, the Motown soul sounding I Feel Better where Gotye takes a sample of Brazil of Edmundo Ros and his Orchestra. There's also a bit of reggae on Don't Worry, We'll Be Watching You, and pure pop in In Your light that is self expressive. On the finale Bronte, he uses a sample once again of Banana Boat song alongwith a sample of Mozambique as performed by Les Baxter, which goes unnoticed. On the lyrical front, Gotye brings out personal statements to the fore and speaks his heart out on all songs.
Gotye whose real name is Wally De Backer has managed to make it big with this album, very pop sounding and fresh. A rundown to the album and you get a sudden feel of a George Michael -style Eighties pop lurking around. A highly recommended album, something that is new and different, even though chances are you might wonder if you want to spin it again. But then this is a new artist and surely a new sound would take time to digest into one's system, isn't it?
Lyrics Included.

Rating: ****

Reviewed By Verus Ferreira