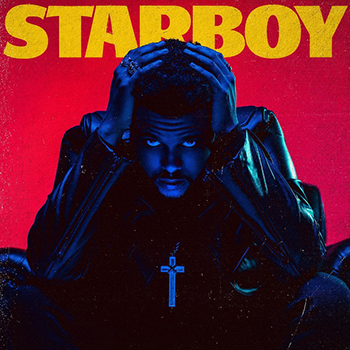 Starboy – The Weeknd – Republic Records (Import)
The Weeknd is now almost a household name all over the world and his third album, but essentially his sixth, given how well-produced the mixtapes were, sees him bring on a new direction in his music, bringing on a load of collaborators after his last album "Beauty Behind the Madness". This eighteen track album features Daft Punk, Kendrick Lamar, Lana Del Rey and Future on a few of the tracks.
The album with its fiery red cover opens with the record-breaking first single Starboy, a track that has heavy drums and an all and out great pitch to it. The song also has an equally interesting music video. Party Monster uses the help of auto tune, and we wonder why when we know The Weeknd has a good vocal range. A pretty catchy song with a good party jam nevertheless.
Moving on to the other top ones that we love and we stumble upon Rockin' that has a superb bass synth line in the verse. When you have Starboy, Stargirl can't be far away. Come in StarGirl Interlude brings in pop star Lana Del Rey, whom The Weeknd collaborated with on his last album, "Beauty Behind the Madness". Like their previous collaboration, both make a fitting display of talent and vocal prowess, with Del Rey hitting some high notes with ease. The Weeknd brings in Kendrick Lamar who brings in his own magic to work with on the track Sidewalks. No great shakes to write about though. Six Feet Under sees Future fill in vocal duties with the artist on a punchy piece of work that is sure to be on your must play list at the party.
As we move on halfway to the album, the hit list comes down and with it the interest span. With so many tracks, it is difficult to really gauge which are your favourites at times, but we do manage to make some noise over what you should have on your playlist. So skipping four pieces we move to Nothing Without You that lyrically means the loss of love and while we can't say much on the instrumentation, we like the bit of EDM work on this track. All I Know, once again brings in Future who spins a descent pitch. Now for the final track I Feel It Coming, Daft Punk fills in a melancholy keyboard line low in the mix in the chorus and lyrics that have months later, become something of an iconic piece of work.
Abel Tesfaye if you didn't know, that's The Weeknd's real name, is undoubtedly a gifted vocalist and songwriter, but his movements on this album are bit scary. He has no focus to fall back on and is taking the wrong paths aping a few pop artists work. The Canadian needs to work hard on his next, before he disappears on the face of the music industry.
CD Courtesy: Universal Music India
Rating: ***
Reviewed By Verus Ferreira