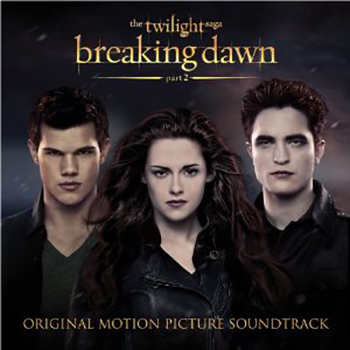 The Twilight Saga Breaking Dawn – Part 2 – Various Artists – OST –Warner Music Rs. 395/-
The series is famous for its catchy soundtrack and the impressive artist's lineup. The soundtrack for the fifth and final film in the franchise continues unabatedly, with this time using genres like rock, ballads, alternative and pop ditties.
The fourteen-track album have a few well known names and a few those you might of never heard before, which fall in the category of talented artists waiting to make a mark with one big hit. If you've seen the movie you surely might have heard the soundtrack come to life in certain segments of the film. Here is the complete sound for your speakers only.
Keeping the tone of the film, the highlights that stood out were less than we expected. The song by ex-"American Idol" contestant and husband Paul McDonald with Twilight actress Nikki Reed, All I've Ever Needed exudes a few great moments with a dreamy vibe, so also Passion Pit's church bells chime the right note in Where I Come From, and Pop Etc's Speak Up.
Ellie Goulding's Bittersweet is energetic and Iko's Heart of Stone, fall in the line of the movie, while Green Day's The Forgotten is the front runner here though, it could get a tad boring. The string section of violin in A Thousand Years by Christina Perri Feat. Steve Kazee is impressive and a rewind for sure. Oklahoma-born singer/songwriter/guitarist St. Vincent's voice is deep on the rocker The Antidote. The finale comes in the clinking piano lullaby of composer Carter Burwell's Plus Que Ma Propre Vie, giving a perfect sign off to the soundtrack.
Other artists that you could give a spin include Feist, Green Day, Nikki Reed, James Vincent McMorrow, The Boom Circuits. Not a great album, but the playlist does have a speck of twilight that would get you to give this a spin. Don't miss out on the inlay card that opens up into a mini poster.
Rating: ****
Reviewed By Verus Ferreira