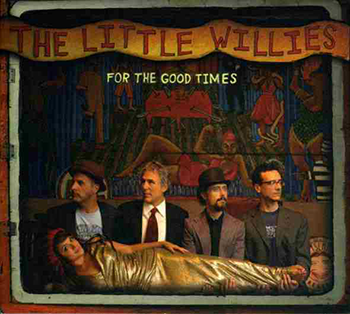 For the Good Times – The Little Willies – (Virgin Records) Rs. 395/-
Norah Jones country outfit The Little Willies formed in 2003, brings another selection of country covers after their self titled effort in 2006. This collection features classic covers from country legends including Johnny Cash, Kris Kristofferson, Dolly Parton, Loretta Lynn, and many more. She does this with her band that features Richard Julian on guitar and vocals, Jim Campilongo on guitar, Lee Alexander on bass and Dan Rieser on drums. Fronting the band on vocals and piano is Norah Jones.
The highlights would include the album title For the good times' titled after a Kris Kristofferson composition, Permanently Lonely originally by Willie Nelson, Johnny Cash's Wide Open Road, Lefty Frizzell's unforgettable country piece If you've got the money, I've got the time. But the best of all would be Norah's leisurely version of Dolly Parton's Jolene.
If you're in the mood for country and don't mind the cover versions, tune into this collection that promises a few good moments by a bluesy - jazz – pop singer who has also been dubbed as Norah Jones.
Rating: ****
By Verus Ferreira