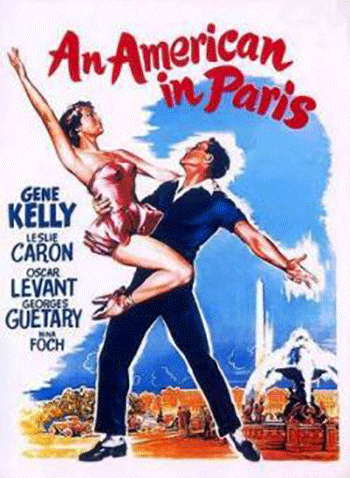 An American in Paris – Reliance BIG Home Video Rs. 499/-
Cast: Gene Kelly, Leslie Caron, Oscar Levant
Director: Vincente Minnelli
A true classic is what 'An American in Paris' can be classified as. The film has Gene Kelly at his best throughout, with his tap dancing and fun loving singing. Leslie Caron's debut is convincing, though much more could've been expected. The 18 minute ballet sequence towards the end is rather long, but worth a watch for all its superficial steps.
There is no dialogue or lyrics, with the operatic score based around a Gershwin orchestral composition. Most memorable are the songs, the slow and romantic Our Love is here to stay, when Jerry is serenading Lise along the River Seine, as well as the peppy Tra-La-La (This time is really love) with Jerry mugging alongside Adam while straddling his piano.
The story revolves around Jerry Mulligan (Gene Kelly) a struggling American expatriate in Paris trying to make a reputation as a painter. With not much money on him, he spends his time trying unsuccessfully to sell his paintings to passers-by and hoping one day to have his own art show in the city. He has his friends and other ex-patriots, including jazz pianist Adam (Oscar Levant), a struggling concert pianist with French singer, Henri Baurel (Georges Guétary).
While out selling his paintings on the streets of Paris one sunny afternoon, a wealthy American divorcee Milo Roberts (Nina Foch) stops to buy one of his paintings and offers him a big amount. She takes interest in his work and offers to make him really big. She adores his talent, but more than that, she is romantically interested in the athletic Jerry who does not reciprocate her feelings. He instead falls in love with a Parisian Lise Bouvier (Leslie Caron) who works as a perfume shop assistant and is already engaged to Henri, who also happens to be one of Jerry's friends. Here comes the major love triangle.

Pursuing her repeatedly, Lise finally confesses her love for him, but can't forget her lover to whom she feels indebted to for having saved her family during World War II. Jerry and Lise spend time together, and their love blossoms, but not for long until the truth comes out.

At a raunchy party, the truth is revealed when Milo learns that Jerry is not interested in her, while Jerry learns that Lise is to marry her love the next day. Henri overhears the conversation. What happens next? Will Jerry marry Lise?
The six academy award winning film is sure to tug at your heart strings even in this day and age.
Rating: ****
Reviewed By Verus Ferreira