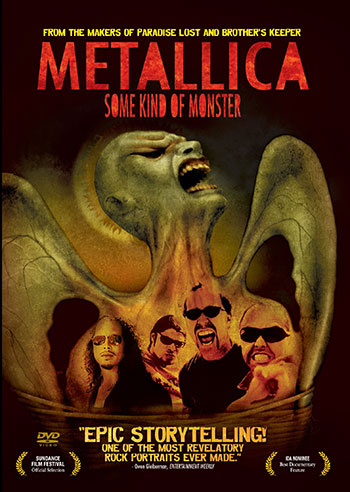 Some Kind of Monster – Metallica (BIG Home Video) Rs. 599/-
Director: Joe Berlinger and Bruce Sinofsky
A well documented rockumentary on Metalllica - 'Some Kind of Monster' should get fans enjoying edge of the seat excitement. The 2004 American film features the heavy metal band in all their glory, eating, drinking, sleeping, touring and best of all fighting it out between themselves. It's a personal exploration of the band's relationships with each other, and their struggles with the creative and power process. The DVD title shares its name with a song from Metallica's 2003 Grammy winning album 'St Anger'. The flick won the Independent Spirit Award for Best Documentary Feature. The filmmakers Joe Berlinger and Bruce Sinofsky spent over two years with Metallica, and the results are worth watching.
Metallica was plagued with problems after long time bassist Jason Newsted quit the band. It was then that Metallica's management Q-Prime hired therapist Phil Towle who charged a hefty $40,000 per month to counsel members James Hetfield (Vocals - James is also labeled 'Alcoholica' as reported on a news TV channel, by fans and the rock press), Lars Ulrich (Drums) and Kirk Hammett (Lead guitar) as they confronted alcoholism, creative obstacles, and themselves in an effort to determine the viability of Metallica's future and to help the group better understand one another as friends, band mates and human beings. Producer Bob Rock looks on the daily grunge going on in the band.
The band moves over to Presidio in April 2001 where they begin music sessions in earnest for their first album in five years. Little did they know that it would take two years to complete. Interestingly, since bassist Jason Newsted left the band, it was a struggle.
With the passage of time verbal fights ensue and things go awry. James Hetfields door slamming after a tussle with Lars is revealing. It does not put them in bad light, but it makes them real. James quits the band and goes for a five months rehabilitation spell, dooming the future of the new record.
There's also a tussle between Hetfield and Ulrich who confesses that he resents Hetfield's need to control everything in the decision making process. This can be seen when Hetfield returns from rehab and finds that the band has been working him. In a commanding scene when Hetfield returns from rehab and makes it known to the band that he can work just four hours per day from 12 noon to 4pm, Ulrich starts to curse under his breath, before finally getting nose-to-nose close with James and shouting "Fuck!"
In another scene where James Hetfield, Lars Ulrich, Kirk Hammett, and several others are discussing titles for the album Hetfield suggests to use the name of the song St Anger, Lars Ulrich prefers Frantic, which finally becomes the first track on the album.
The band also visits former band mate's bassists Jason Newsted and Dave Mustaine. Mustaine appears briefly in a scene where he confronts Ulrich on the band's decision to fire him in 1983 for excessive substance abuse in the early 1980s without the opportunity to redeem himself with an alcoholism treatment program, an incident from early in the band's career. Now successful in his own group Megadeth, he still wants to come back to Metallica and be part of the band. But James won't have anything of the sort. The film also pans to the days when Cliff Burton (former bassist of Metallica, until Jason Newsted walked in) was killed in a car accident in 1986. The band also hits out on the episode of the Napster ordeal as well.
Roll back ahead to 12th April 2002 and the band meet in HQ where after months of rehab delays and petty issues solved, Hetfield is rediscovering his music without the crutch of his addictions. The album is now on the road the hitting the big time and final demos are ready. It's showtime at last when the album sees the light of day in December 2003 with new bass player Robert Trujillo, whose audition sparks the first genuine musical camaraderie in the whole documentary. The album reached number three on the album charts in 30 countries and the band later went on a sold-out world tour.
The band was also conferred upon as the MTV Icon of the year in 2003. Interestingly there first concert they played with newcomer Trujillo was at the California State Prison in San Quentin. Hetfield remarked at the concert." If I hadn't have music in my life, it's quite possible I would be in here or be dead, I rather be alive".
The film also has many excerpts from album tracks, concert shots are aplenty and a treat for Metallica fans. There are also many never before shots of Torben Ulrich (Lars father) taking a stroll in his sprawling property. Torben also listens in on the recordings made by the band and gives his take on it. If that's not enough, there are also family shots of Skylar Ulrich, Lars wife. Lars love for painting is also very much part of the film, and the Christie's auction is something to watch out for. When his multi-million dollar collection of modern art goes under the hammer for record prices, Lars and his folks just cannot believe it. It's a family setting in the studio where Lars son Myle walks in now and then and makes sweet talk with the members of the band. There are also never before seen shots of Kirk's ranch.
The DVD is packed with bonus features with over 28 segments of short snippets where Metallica shows and says what they want in full force. They have the rights to the final cut after all and that's what makes this film so worth watching. All's well that ends well, we'd say. The band comes out stronger, wiser and full of hope, acceptance and promise. In the end it's all about relationships.
Duration: 240 minutes including bonus features
Rating: ****
Reviewed By Verus Ferreira