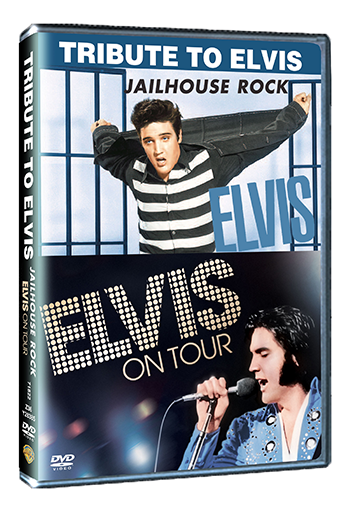 Tribute to Elvis – Jailhouse Rock + Elvis on Tour - 2 Discs – (Reliance BIG Home Video) Rs. 699/-
Jailhouse Rock

What better way to pay tribute to the King of Rock n Roll on his death anniversary (16th August 1977), than to watch some his finest live performances and also take in his movies, the best of the lot being 'Jailhouse Rock' one of his pre-Army films. The movie is the third Elvis movie, made when he was 22 years old.

In the movie (made in Black and White) Elvis plays Vince Everett a young lad, attractive to the women, quick tempered who accidentally kills a man while protecting a young woman. This act sadly sees him thrown into prison for about 18 months, where he meets up with his cellmate, a former country singer Hunk Houghton (Mickey Shaughnessy) who teaches him to sing the ins and outs of showbiz and how to make money. He persuades Vince to sign a contract where Vince would get 50% of Vince's future earnings. Vince thinks it's a joke and accepts the offer. Upon his release, Vince goes into show business and becomes a sensation within no time. He also meets a record label assistant Peggy (Judy Tyler) who takes an interest in him, both personally and professionally. He releases a song with a record label, only to get cheated by the record company. Vince decides to set up his own record label with Peggy, He releases his first single which is a huge hit. Success goes to his head so much so that he is all set to leave his label colleague Peggy and enter into a signing a big record label in order to earn more money.

Houghton shows up unexpectedly and breaks the daylights out of Vince when he comes to know how he is living his life. A knockout punch by Houghton injures Vince's vocal chords and he is unable to sing. Deserted by his peers who looked up to him at his success, he finds himself nowhere and its only Houghton and Peggy who are by his side. He learns the value of friendship and fidelity. His voice restored Vince is back into the music business, committed to his music and his Peggy.
Elvis On Tour
Some of the unforgettable scenes include his jail days where you get to see Elvis being whipped, yes literally whipped. Besides that the movie contains some of the King's best, most-rocking music, too. Elvis on Tour
As a follow up to 'Elvis—That's The Way It Is', directors Robert Abel and Pierre Adidge followed Presley on his 15 cities in 15 nights 1972 tour, the results of which became Presley's 33rd and final film, 'Elvis On Tour'. Those who have followed him closely will see that his appearance has changed dramatically in the two years since the release of his previous documentary.
Not just a concert performance, Elvis On Tour gives a behind-the-scenes look at Presley's tour with plenty of backstage moments. We see Presley just before he hits the stage, candid moments with the Memphis Mafia in his limousine, while getting on and off airplanes, on and off buses, and in and out of limousines, studio footage and footage of Presley and his band singing gospel songs on their off hours. Not many know but Elvis loved singing Gospel music, so much so that he has had many Gospel albums to his credit. You also get a peek at the public and private lives of the famous performer with glimpses of Elvis on stage and some rare personal moments. There's also the two members of Elvis's inner circle, Red West and Sonny West, who later, after Elvis' death exposed their boss's dark side.
Martin Scorsese's classic touch shows the star on stage from several viewpoints on the screen, and gives the viewer a ringside view of extra shots of Elvis…… a montage approach that keeps the viewer's eye moving back-and-forth from the star to the musicians to the concert audience, splitting the images into two, three, and sometimes four panels.
The DVD pans Elvis on tour in different cities with live performances filmed in Hampton, VA; Greensboro, NC; and San Antonio, TX including the first-ever performance of Presley's last U.S. top-10 hit, Burning Love. You can actually watch Elvis read off the lyrics from a sheet of paper while he sings.
Other highlights include some great songs like the powerful cover versions of Bridge Over Troubled Water and An American Trilogy and a impressive version of Funny How Time Slips Away, Don't be cruel. This was his last tryst with the screen, for it's hard to believe that Elvis Presley would be dead just five short years later.
Rating: ****
Reviewed By Verus Ferreira