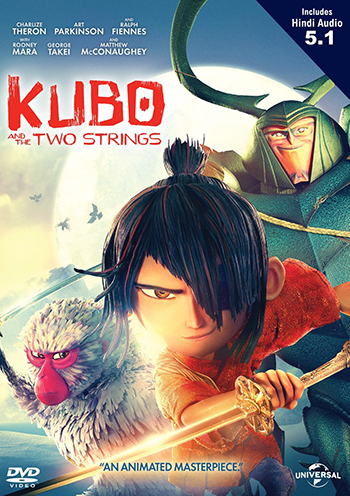 Kubo and the Two Strings – Rs. 499/- (Sony DADC)
Cast: Voices of Charlize Theron, Art Parkinson, Ralph Fiennes, George Takei, Matthew McConaughey
Directed by: Travis Knight
After the success of 'Coralline', Laika Entertainment brings yet another heart - warming story,this time delving into a mythical world.Packaged with some dazzling works of visual creativity,thrilling action, witty dialogue and a bit of adult overtones, this is a true entertainer.
Though the night images on screen appear a bit greyish, overall the day visual transfer of this Japanese inspired setting, with its fairytale and symbolic storytelling are bright and sharp.
We have the cute little Kubo (Art Parkinson), a young, half-blind boy living with his ill mother who suffers from dementia. She recalls her past stories to Kubo who in turn makes a living telling stories to the nearby seaside villagers who listen intently to every word he says, while plucking the strings of his shamisen, a magical musical instrument.Kubo also has magical abilities which give shape to slips of paper, creating origami figures like soldiers and other characters that come alive and bring about some adventurous moments.
In one of her conversation with Kubo, she warns him of the impending danger of staying out after dark, the consequences being that an evil spirit could take him away to see his evil grandfather.But careless Kubo, who otherwise is brave, gets entrapped into the evil net, but with the help of a talking monkey (Charlize Theron) and a scatter brain beetle-like warrior (Matthew McConaughey), Kubo travels far and wide across all sorts of terrains, fighting off the vengeful Moon King (Ralph Fiennes) and the evil twin Sisters (Rooney Mara), to unlock the secret of his legacy, reunite his family and fulfill his heroic destiny, while discovering his own magical ability in the process. The three monsters look scary, but with Kubo around,it's an adventure.
Besides a beautiful background score, the end credits roll out with The Beatles evocative ballad While My Guitar Gently weepssung by Regina Spektor.Don't miss about half an hour of bonus features – 'Kubo's Journey' and 'Corners of the Earth'.
Rating: ****
Reviewed by Verus Ferreira