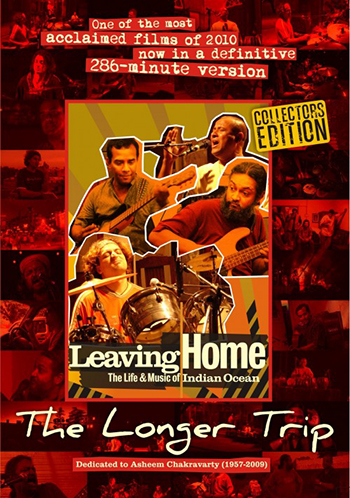 Leaving Home: The Life and Music of Indian Ocean – (EMI Virgin) - 2 Discs Rs. 495/-
The Collectors edition of the DVD has 286 minutes of footage and illustrates a band that took the risks and survived. While the cinema version is 115 minutes long, the DVD is surely a 'longer trip', more than two and a half times and covers more detail than the cinema version.
'Leaving Home: The Life and Music of Indian Ocean' made history in 2010 to become India's first non – fiction film to release nationally in theaters. Uncut songs, additional songs, revealing moments, extra chapters, updated till late 2010….makes this a well rounded production with no cuts.
Jaideep Varma, who took the initiative to direct this film in 2006, picks up footage shot between 2007 and 2008. Varma has directed the film, which is produced by his company Cartwheel Features. Varma has also been a novelist (Local, 2005) and a feature filmmaker (Hulla, 2008). 'Leaving Home' is his first non-fiction film.
The DVD also has additional chapters like 'Let me speak' that features conversations and song snippets with Indian Ocean's peers, while 'Des Mera' goes on to state the influence of Delhi on the band and lastly 'Bondhu' talks of life for the band after the demise of Asheem. Don't miss 'Hille Le' on the political side of the band and how they deal with their differences.
Going into a little detail the film rolls on lives of the four band members, Sushmit Sen (guitar, vocals), Rahul Ram (bass guitar, vocals), Amit Kilam (drums, other percussions) and Asheem Chakravarty (tabla, other percussions and vocals). It is segmented with interviews, family interviews, including each of their spouses, concert footage, rehearsals and people they have worked with. Each musician is documented separately from his beginnings in the band to the present day.
The film is set in an old 100 year old bungalow in Delhi's Karol Bagh, a place where the band resided for many years. It is also their mini studio and location for most of the films live sound recordings. Live footage includes full length versions of the mega hits like 'Kandhisa', 'Village Damsel', 'Kaun', 'Badeh' (from Black Friday), 'Jhini' and 'Maa Rewa' (a song written by Rahul for the Narmada Bachao Andolan) and lots more. The four pitch in on the vocals with practiced ease and move in and out with their instruments creating a free flow of vocals, a scat or just singing lyrics. Jaideep also delves deep into how the band made some of these cult songs.
The language is a mix of Hindi and English with a dash of Bengali in certain parts. The film has subtitles in English almost throughout helping those with a handicap for Hindi. One liners in English bring out major moments in the bands career. Talk about humor and the film is filled with it. Asheem especially is at his best cracking one joke after another. The others too join in sometimes.
The band members also bring in ex band mates who started off with the band, but due to familial pressure back out and took up regular jobs. Their short but tight interviews leave an impact on the viewers. Their regret at not having continued with the band is also seen in their faces. The film also speaks about how their band was rejected by several major music labels, and so called A&R veterans. Due to this Susmit Sen took up a job with HMV to understand the functioning of the industry.
The music which is omnipotent here and is truly spellbinding to say the least. Listening to Indian Ocean you cannot just fathom the fact how full and rich their sound is that too a four piece band made up of two percussionists, a bass player and a guitarist could create such great music. Each member of this band is contributing to both the melody and the rhythm of each song, not forgetting each also pushing up a new riff of their own. Other video footage includes collaborations with Shubha Mudgal, Rabbi Shergill and Kailash Kher, and also features opinions of filmmakers like Anurag Kashyap and Palash Sen among many others.
Technically speaking the film has very few downers as the cameras are slightly unsteady on some counts. Concert footage and interviews are snapped at many junctures and rejoined hastily. The sound on the other hand is excellent and well captured……. can't wait for it on DVD.
One of the highlights of the film is concert footage of percussionist Amit Kilam who plays the two stringed drum based percussion instrument from West Bengal known as the gabgubi, whose sound can be altered by pulling the stings with one hand while simultaneously tapping out the rhythm. The instrument looks very ordinary, but the sound is amazing.
The film released on 2nd April 2010 to rave reviews, more than three months after the unfortunate death of the legendary tabla - vocalist Asheem Chakravarty (25th December 2009) - to whom the film is now dedicated.
Rating: ****
Reviewed By Verus Ferreira