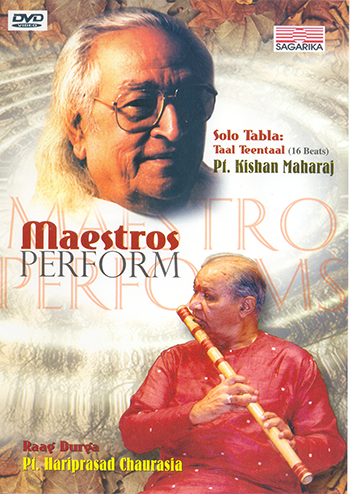 Maestros Perform - Pt. Hariprasad Chaurasia and Pt. Kishan Maharaj - (Sagarika) Rs. 300
One of the standout concerts on DVD, the package includes two big greats from the classical musical world. Pt. Hariprasad Chaurasia is known internationally as the greatest living master of Bansuri, the North Indian Bamboo flute, and is one of the only few who have made a conscious effort to reach out and expand the audience for classical music. On this set is a performance held at the Shanmukhananda Hall where he presents Raag Durga to a packed house.
The second half of this set has Pt. Kishan Maharaj a Padmashree, Padmabhushan, one of the finest tabla players. His ability to play across rhythms and produce complex calculations, particularly in tihai patterns has made him one of the most respected and popular tabla players of his time. A listen to him is enchanting, while his concert is awesome. Here Pt. Kishan does Taal Teentaal (16 Beats).
Classical music lovers don't miss this for anything.
Rating: ****
Reviewed by Verus Ferreira