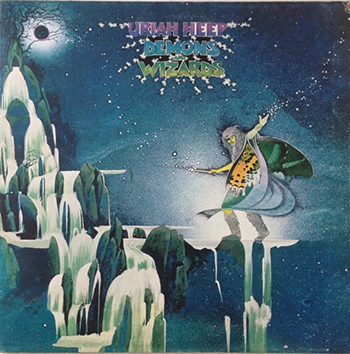 Demons and Wizards -- Uriah Heep
'Demons and Wizards' is the 4th studio album of Uriah Heep and is a fine slice of British heavy progressive rock, or progressive hard rock. The album features their finest classic line-up with David Byron (Lead Vocals), Mick Box (Guitars), Ken Hensley (Organ, Moog, Guitars, Harmony Vocals), Gary Thain (Bass) and Lee Kerslake (Drums, Backing Vocals).
The LP opens with The Wizard which has an acoustic guitar intro with dreamy, theatrical vocals by David Byron leading to an outburst of the dynamics of electric guitar. Next comes Traveler in Time which is beautifully melodic, but heavier than the opener. The next, Easy Livin' is an anthemic 3-minute hard rock track with pulsating drums from Kerslake, driving bassline by Thain and heavy, distorted guitar of Mick Box & organ by Hensley. Side A closes with another excellent track, Circle of Hands with fabulous organ/moog playing by Hensley and top-notch vocals by Byron.
Side B opener, Rainbow Demon has some excellent harmony vocals from Lee Kerslake & David Byron and takes one to the real utopian fantasy which was the central theme of early Uriah Heep LPs, thanks to Ken Hensley. The LP ends with the epic 12-minute long prog rock extravaganza, Paradise/The Spell, again with driving rhythm from Thain/Kerslake with excellent guitar & organ works by Box/Hensley creating the sonic landscape for Byron's operatic vocals.

'Demons and Wizards' had firmly established Uriah Heep in the league of Rock 'n' Roll stardom. This LP is one of the early Heep classics (a personal favorite of mine) and is an important album in hard rock/heavy prog genre. This LP has epitomized the excellent songwriting skills of Heep and showcased their instrumental firepower. The album artwork has been designed by the great Roger Dean of Yes-fame which is commensurate for its mystic and fantasy-themed music. The LP has been released with a gorgeous 2-panel gatefold cover with foreword from Hensley, band photos, lyrics and a flip-in pocket for keeping the LP.

Highly recommended for all fans and record collectors of early '70s British hard rock/heavy progressive rock!

Category Studio
Original Year of Release 1972 (Mercury/Bronze Records)
Last Vinyl Pressing/Reissue 2015 (Sanctuary Records)
Genre Heavy Progressive Rock
Rating ********** (9/10)

Reviewed by Aveek Chatterjee

Aveek Chatterjee is a Calcutta-based corporate professional and a passionate fan of classic rock, prog and blues of '60s-'70s. He's an amateur drummer and stills finds time to intermittently jam with his son on guitar. He's an avid collector of classic rock LPs, CDs and DVDs. However, his Audio Technica turntable and the collection of 1000 odd vinyl LPs featuring many rare and hard-to-find albums are his prized possessions.