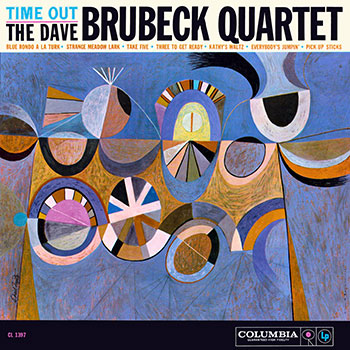 Time Out – The Dave Brubeck Quartet
Very few albums in jazz history are as popular as this one. And the sweet irony is that it broke the rhythmic rules of Jazz which had been around till 1959, exploring time signatures beyond the standard 4/4 or 3/4. Critics panned it on its release but the world loved it. It sold 50, 000 units in its year of release, a number pretty impressive for a jazz album. The star track, Take Five reached Top 40, once again very impressive for a jazz number.
So, what makes this unconventional jazz album so popular, that it is still played in the bars across the world and it still sounds as fresh as ever?
Perhaps because the sound is never jarring… it combines the cool and west coast melodious jazz. Perhaps because the sound and the rhythm patterns were also inspired by Turkish music, so it has a universal appeal. Or perhaps it's just beautiful music transcending the technicalities which aren't really important to the common listener.
Take Five the show stopper, composed by Paul Desmond is a five and a half minute joyride with one of the best drumming (by Joe Morello) heard in the history of music. The 5/4 rhythm and melodic pattern has become a signature over a period of time with many musicians using it time and again in their work. Most recently, Mark Knopfler used in the opening track of his album, 'Tracker'. Despite it's overplay over the years, this piece is still grand.
The other tracks are equally brilliant with the tight quartet comprising Brubeck on piano, Desmond on alto saxophone, Morello on drums and Eugene Wright on bass. My picks are of course the classical and Turkish sound inspired, Blue Rondo a la Turk (Brubeck is brilliant here), Strange Meadow Lark and Kathy's Waltz, named after Brubeck's daughter, Cathy, but misspelled in the record sleeve.
'Time Out' is an institution which all music lovers must go through, whether one is a jazz aficionado or not. And once you have gone through it, a part of you will always stay there in those 38 minutes.
Rating: *****
Year: 1959
Genre: Cool Jazz
Length: 38:30
Label: Columbia
Producer: Teo Macero
Reviewed by Meraj Hasan

Meraj Hasan is a Mumbai based communication professional (and an amateur poet/musician) with a passion for listening to music the vinyl way. His 25 year old Technics turntable along with a humble collection of LPs across genres like Classic rock, Classical, Blues and Jazz (amongst others) are his prized possessions.
He can be reached at +91 9833410791 or email: meraj.hasan@gmail.com