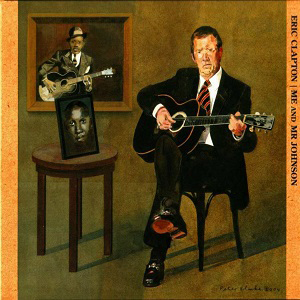 Me and Mr. Johnson – Eric Clapton
One sold his soul to the devil, the other was given the status of God and the two came together in this album called, "Me and Mr. Johnson".
Robert Johnson has always been a guiding light for Eric Clapton, giving him some of his early hits like 'Ramblin' on My Mind' with John Mayall & the Bluesbreakers and the powerhouse 'Crossroads' with Cream. But here, Clapton dedicates the entire album to his master (sans the previously recorded material). Something which was long overdue.
Johnson's short-lived story is full of mythical twists and turns. He just lived for 27 years, shyly recorded 29 tracks between 1936 and 1937, said to have sold his soul to the devil to achieve guitar wizardry and died under strange circumstances…some say poisoning, some say syphilis. But with those 29 tracks he gave birth to something called the Delta blues, which inspired generations of blues musicians like Howlin' Wolf, BB King and several British bluesmen such as Jimmy Page and Clapton. Johnsons's lyrics, with its references to women, sex, alcohol, death and doomsday and devil, also provided rich influence to all the subsequent writing in blues and rock music.
And, 'Clapton is God' was a common urban graffiti in London of the swinging sixties because of his incredible solos during the Bluesbreakers and Cream days. It appeared first in the underground station in Islington in the form of a spray painting and the meme continued.
Musically speaking, the guitar is brilliant, vocals, with its Johnson-like hoo-hoos are solid and the band is unpretentiously tight with some great musicians. Clapton seems relaxed with his love, respect and sincerity for the blues pioneer. Now, some purists may say that blues music, especially if one is covering Robert Johnson's music, needs to be haunting, with the performances reeking of pain and troubled times. But here is a student having fun with his master's music in his own quintessential style. A very well deserved fun, I'd say. So, nevermind!
The sleeve note of the album has Clapton talking about his relationship with Mr Johnson and it's beautiful. "It is a remarkable thing to have been driven and influenced all of my life by the work of one man. I think of it as a landmark that I navigate by, whenever I feel myself going adrift. Up until I heard his music, everything I had ever heard seemed as if it was dressed up for a shop window somewhere. At first, it scared me in its intensity, and I could only take it in small doses. I could never really get away from it, and in the end, it spoiled me for everything else."
The artistic cover of the album was painted by the famous pop artist, Peter Blake, best known for co-creating the iconic Sgt. Pepper's Lonely Hearts Club Band.
This unholy mix is a good LP to have in your revered collection.
Year: 2004
Genre: Blues
Duration: 45:38
Producer: Eric Clapton, Simon Climie
Label: Reprise
Rating: 4.5/5
LP Courtesy: Sony DADC
Reviewed by Meraj Hasan
Meraj Hasan is a Mumbai based communication professional (and an amateur poet/musician) with a passion for listening to music the vinyl way. His 25 year old Technics turntable along with a humble collection of LPs across genres like Classic rock, Classical, Blues and Jazz (amongst others) are his prized possessions.
He can be reached at +91 9833410791 or email: meraj.hasan@gmail.com