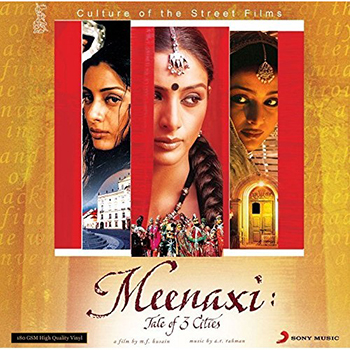 Meenaxi: A Tale of Three Cities – AR Rahman
25 years ago, something lovely happened to this country. A person called AR Rahman through the music of Mani Ratnam's movie, 'Roja', entered the nation's musical subconscious. With songs like Roja Jaaneman, Dil Hai Chotta Sa and Yeh Haseen Waadiyan, he single-handedly and almost overnight, changed the landscape and grammar of popular music in India. A much needed change considering, this was the 90's of Anand-Milind and Nadeem-Shravan. And with every subsequent album since then, he has continued to push the musical envelope, beautifully. One such work was the music for MF Husain's 2004 movie, 'Meenaxi: A Tale of Three Cities'.
The album starts off with what sound like a gentle brook bubbling effortlessly. It's a mix of playful humming by a sweet female voice, with bells and organ in the backdrop. The sounds develops into the song Yeh Rishta Kya Kehlata Hai, charmingly sung by Reena Bhardwaj. Even the lyrics by Rahat Indori are water-like, literally…and Rahman uses the sound of flowing water here.

Iss gumsum jheel ke paani mein
Koyi moti aakar girta hai
Ek dayara banne lagta hai
Aur behke bhanvar ban jaata hai

In the water of this silent lake
Some pearl (drop) falls.
It starts becoming round.
And by flowing round and round it becomes whirlpool.

Next up is Telugu folk music meets Western beats meets Punjabi vocals. The beats are addictive, the melody is rustic and Sukhwinder's (who has also written the lyrics) singing is spunky. Chinamma Chilkamma, as is true with most Rahman songs, gets better with time.

Then comes the soulful ballad sung by Sonu Nigam, Do Kadam Aur Sahi…perhaps the best song the singer has ever sung. Here Rahman fuses the vocals and music seamlessly (along with the lyrics) into a tender experience. The lyrics talk about an idyllic land filled with glow and happiness and that's where you end up reaching, with this song. The last track of Side A is an instrumental which seems like good contextual music with bicycle bells, flute and percussion instruments.

Side B opens up with a seductive track, Dhuan Dhuan which is more Asha Bhosle than AR Rahman…perhaps the weakest part of the entire album. No, it isn't a bad song…it's just weaker than other tracks in the album.

Rahman has used Alka Yagnik's vocals frugally but whenever he has, it has resulted in magic (think Mitwa from 'Lagaan' or Ae Hairath e Zindagi from 'Guru' amongst others). Rang Hai, the earthy next track is one such track with the typical Rahman nuances delivered to perfection by the singer.

In the current scheme of things, nobody can equal Rahman when it comes to devotional compositions (and patriotic songs), whether it's a Qawaali or a Bhajan. In fact, he is the only one who uses these formats in film music. Just consider Piya Haji Ali ('Fiza') and Eeshwar Allah ('Earth 1947') amongst other gems. Noor Un Ala is another masterpiece from the same genre. Written by MF Hussain himself and sung by the Khan Bros., this Qawwali ran into some unnecessary controversy. The last track of the LP is a trippy instrumental called Potter's Village, which goes round and round like well…a potter's wheel.
Today, 25 years after 'Roja', AR Rahman is nothing short of a living legend, pride of nation, Academy winner, Mozart of Madras and what not. And while some naysayers, which sometimes include a fan like 'yours truly', say that the man has lost his erstwhile mojo, but his body of work remains beautiful and sparkling. And this little album is one of the shinier example.

Year: 2004
Length: 39:52
Genre: Original Soundtrack
Label: Sony BMG
Re-release manufacturer: Sony DADC
Rating: ****
LP Courtesy: Sony DADC

Reviewed by Meraj Hasan
Meraj Hasan is a Mumbai based communication professional (and an amateur poet/musician) with a passion for listening to music the vinyl way. His 25 year old Technics turntable along with a humble collection of LPs across genres like Classic rock, Classical, Blues and Jazz (amongst others) are his prized possessions.
He can be reached at +91 9833410791 or email: meraj.hasan@gmail.com