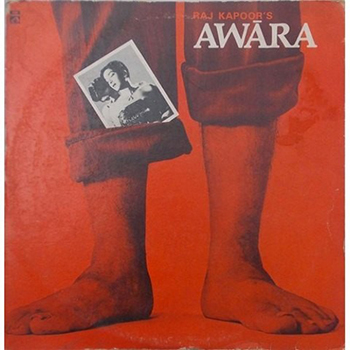 Awara – Shankar Jaikishan
Shankar - Jaikishan (popularly known as SJ), were the musical alter-ego of filmmaker Raj Kapoor. Together (along with lyricists Hasrat Jaipuri and Shailendra), they gave the Hindi Film industry some of its finest albums. 'Awara' (1951), their second collaboration (after 'Barsaat' in 1949) was one of them.The album has some real gems shining melodiously as well as famously.
Side A opens up with Naiya Teri Manjhdaar, a typical boatman's song with philosophical lyrics, appropriately composed for the Mohd. Rafi's vocal range. The next track, Ek Do Teen is an early avatar of what we call an'item number' in today's Bollywood, and it's seductively sung by Shamshad Begum. Next up is a bubbly track, Jab Se Balam Ghar Aae, about a blooming love relationship, sung by Lata Mangeshkar (Lata).
The last two tracks are special. Hanste Bhi Rahe Rote Bhi Rahe, a simple song based on Raag Bhairavi about the travesties of love, is brilliant. The austerity of the lyrics combined with Mukesh's sonorous voice makes the song a timeless classic. Ab Raat Guzarne Waali Hai is a song about a woman craving for her man to come to her as the night is fading away. The piano intro is beautiful and Lata's singing is gentle and impeccable.
Side B begins with the legendary Awara Hoon which immediately became famous in several parts of the world, with Greece, Turkey, Soviet Union and China having their own versions of it. Written by Shailendra and based on Raag Bhairavi, the song sung by Mukesh, talks about a tramp's (Awara's) life in a simple yet philosophical manner.
Next comes the charming little duet, Dum Bhar Jo Udhar Moonh Phere sung by Lata and Mukesh. It's a lyrical gem. The woman is shy and wants the moon to turn the other way while she talks about love to her man, while the man wants the moon to turn their way so that he can look at his lover properly. Simply beautiful.
Dum Bhar Jo Udhar Moonh Phere, O Chanda
Main Unse Pyaar Kar Loongi, Baatein Hazaar Kar Loongi
Dum Bhar Jo Idhar Moonh Phere, O Chanda
Main Unse Pyaarkar Loongi, Nazrein To Chaar Kar Loonga
Then comes the folksy and forgettable, Ek Bawafa Se Pyar Kiya sung by Lata. The album ends with the fusion of two tracks and the result is almost operatic. The first part Tere Bina Aag Yeh Chandni, sung by Lata and Manna Dey is about despair and longing and the second part Ghar Aaya Mera Pardesi is about the euphoria of reunion. The songs were made for an elaborate dream sequence in the movie and that's exactly what they sound like…eerily beautiful.
Years later, the famous accordion refrain played by the great Balsarain Awara Hoon became the guiding light for the accordion piece in Jeena Yahan Marna Yahan from 'Mera Naam Joker', the last Raj Kapoor – SJ collaboration in 1970, making the journey a full circle. In the interim 21 years, the team created some wonderful music and Awara's soundtrack stands pretty tall amongst them.
Year: 1951
Genre: Original Soundtrack
Label: HMV
Re-release manufacturer: Sony DADC
LP Courtsey: Sony DADC
Rating: ****
Reviewed by Meraj Hasan
Meraj Hasan is a Mumbai based communication professional (and an amateur poet/musician) with a passion for listening to music the vinyl way. His 25 year old Technics turntable along with a humble collection of LPs across genres like Classic rock, Classical, Blues and Jazz (amongst others) are his prized possessions.
He can be reached at +91 9833410791 or email: meraj.hasan@gmail.com