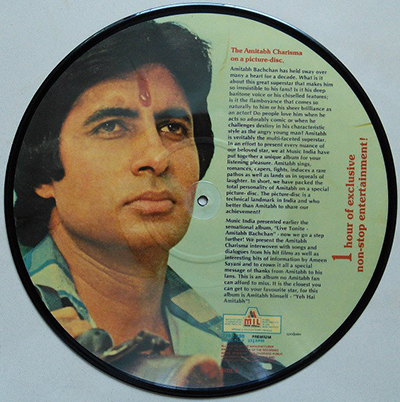 Yeh Hai Amitabh – Picture Disc Vinyl LP Record
On 11th October we celebrated Big B's 75th birthday and what better way to pay tribute to the legend, than to pull out an old and rare picture disc from my collection of LPs.
Rarest of the rare, picture vinyl LP records (or picture discs as they are called) feature a photo print on the surface of the record. The photo print usually does not alter the playing capabilities of the record although many die hard vinyl fanatics feel that the sound quality does go down a bit. These picture discs, i.e. vinyl LP records bearing printed images on their surface, would fascinate music lovers back in time and were an object of much curiosity.
'Yeh Hai Amitabh' features the star, his dialogues, his songs (presented by Ameen Sayani). Bachchan shares the unknown stories of his life, where he sings, romances, capers, fights, induces a rare pathos as well as lands us in squeals of laughter. This is the whole personality of Bachchan early in his career.

There are songs and dialogues from his hit films as well as interesting bits of information by Ameen Sayani and to crown it all a special message from Amitabh to his fans.

Some of the highlights include Chhu Kar Mere Manko (with Dialogue) Kishore Kumar, Dillagi Ne Di Hawa (with Dialogue) Kishore Kumar, Asha Bhosle, Kasme Vaade Nibhayenge Hum (with Dialogue) Kishore Kumar, Lata Mangeshkar, Humko Tumse Ho Gaya Hai Pyar (with Dialogue) Kishore Kumar, Mohammed Rafi, Mukesh, Lata Mangeshkar, Yeh Dosti Hum Nahin ( with Dialogue) Kishore Kumar, Manna Dey, My Name Is Anthony Gonsalves (with Dialogue) Kishore Kumar, Amitabh Bachchan,

This is an album no Amitabh fan can afford to miss, even if you don't own a turntable, this picture disc is for keeps, 1 hour of non stop entertainment.

Label: Music India
Country: India
Released: 1983
Manufactured, Marketed and Phonographic copyright by Music India.
Rating: *****
Reviewed by Verus Ferreira